Handcrafted, Beautiful Artistry Built To Last For Generations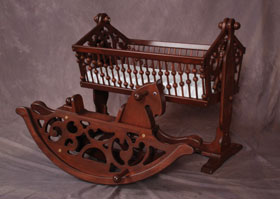 Our wooden children's products are truly special. Our handcrafted Victorian & Classic Sweet
Wood Cradles
and Victorian & Classic Heirloom
Wooden Rocking Horses
are built safe and sturdy to give you years of pleasure. Sure to be a fine addition in any nursery or playroom. An elegant heirloom to pass on to future generations.
Browse through our site for a
Wooden Baby Cradle
or
Wooden Rocking Horse
and see what has made us a family favorite for quality wood products throughout many years. We're glad you stopped by!