VICTORIAN SWEET BABY WOOD CRADLE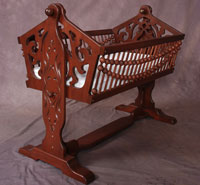 Sweet Baby Cradle reaches it's final beauty when the sleeping new baby is cradled in the warm Victorian decor of the 19th century. The simulated double string of pearls on each side of the Victorian wooden baby cradle speaks of the precious value of the little one adored.
Please click the picture to the left to see a larger picture showing our fine Victorian wood baby cradle craftsmanship.


Created to pass through family generations, Sweet Baby Cradle is a handcrafted baby furniture cradle or newborn cradle from selected Oak, Ash, Walnut or Maple Hard wood. This cradle will be finished in your choice from the popular stains available, then protected in a child safe gloss to highlight it's quality. The Sweet Baby Cradle is also equipped with a "position pin" or safety lock to keep your cradle in a stationary position when in use.
Sweet Baby Cradle is designed to be disassembled for storage, but why not use it to display that cherished quilt that is so warming?
Finished size is 21" wide x 29" high x 35" long. Spindles are spaced 1-1/8" apart. Sweet Baby Cradle design meets US safety standards for cradles. Some assembly is required.
A mattress and sheet is furnished with each Victorian wooden baby cradle.
The Mattress included with the cradle is 15" X 30". Our mattress accommodates standard bassinet sheets.
Sweet Baby Cradle........$445.00 + shipping and handling.

| | | | | |
| --- | --- | --- | --- | --- |
| Sample | | | | |
| Stain | Cherry | Fruitwood | Antique | |
| Wood | Maple | Maple | Oak | |
| | | | | |
| Sample | | | | |
| Stain | Cherry | Walnut | | |
| Wood | Oak | Walnut | | |
Extended Size Cradle

We also have an extended sized cradle. The finished size is 25" wide x 29" high x 41" long with spindles spaced 2" apart. The Mattress included with the twin sized cradle is 18" x 36". The extended sized cradle is perfect for twins!
Extended Size Sweet Baby Cradle........$495.00 + shipping and handling.



Additional Features Available

SWIVEL CASTERS - $25.00
Add a set of 4 swivel casters for ease of moving the cradle from room to room. Fits both standard size and extended size Sweet Baby Cradles.

PERSONALIZED NAMEPLATE - $30.00



BEDDING SET - $75, EXTENDED Size - $90.00
A bedding set includes a bumper pad, fitted sheet, pillow with case, and a comforter...see pattern below.




PERSONALIZED PILLOW - $20.00
Embroider the baby's first name on the pillow. The pillow can be hung from the end of the cradle when the baby is inside.

Each shipment of our Sweet Baby
Wood Cradles
are encased in 1-1/2" thick protective insulation and boxed in a new corrugated box meeting UPS shipping requirements. In addition, each part of the
Baby Cradles For Sale
are individually wrapped to protect it from damage. Each
Wood Cradle
shipped is insured. If damage is experienced, first notify UPS of the damage and immediately e-mail us of the damage. Include the phone number you can be reached for a detailed conversation. We will immediately assist you at the earliest moment possible. No claim of damage has been made since the
Baby Cradle For Sale
we offer have been shipped with this care in packaging. Each cradle is shipped unassembled, however, only 20 minutes is required to assemble using only a Phillips Head type screwdriver. Each cradle has been previously assembled to insure proper fit-up.